Here are some of the incredible clients/women who have worked 1-1 with me, participated in a challenge, or simply purchased a guide.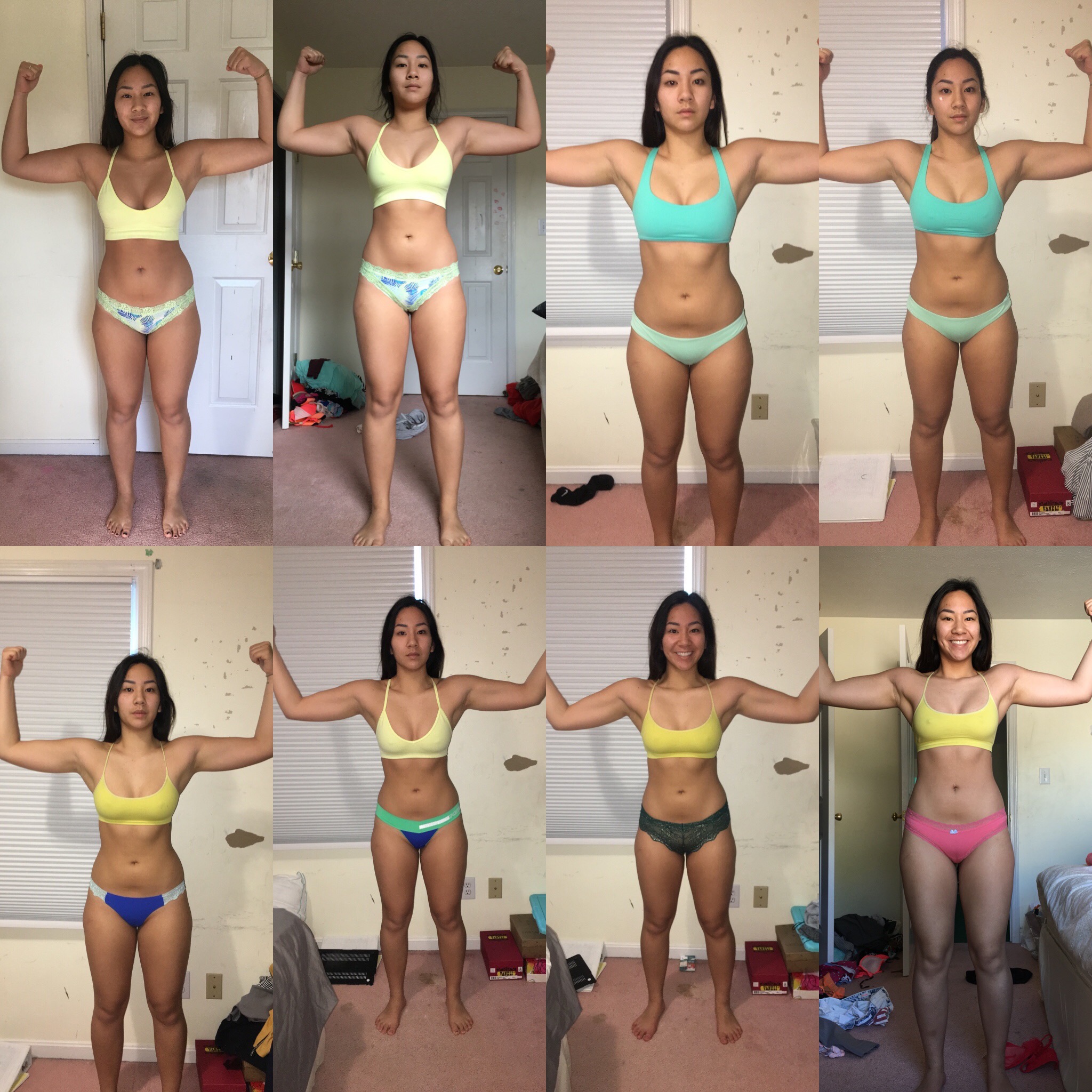 Holly Brunswick
-Participated in the 6 Week Summer Challenge-
"I was super hesitant to even take an after picture to send to you because I fell off a time or two, but then I kept thinking about how important it is to see change, even if it's only small. So I said what the heck. Boy, oh boy. I am SO INCREDIBLY HAPPY with myself. I have such a renewed sense of motivation after putting these photos side by side. Coming into the challenge, I had been stressed out with school and moving apartments and life just had me really down; I stopped taking care of myself completely. Then, I found your page. I followed you and followed along for a part of your journey and was totally inspired. You were totally real and raw and I loved it (it helped that you were educated in the health field as well, lol). Your challenge came around and I didn't even hesitate. I thought to myself "this is the time, this is your chance to hold yourself accountable and start over." I fell off a few times, but your videos and updates and your interaction with everyone in the group chat kept me motivated enough to get back up again.
I have been through the wringer in terms of injuries; back surgeries and knee surgeries, you name it. But your guide was so different than others and didn't stress insane compound lifts. I've been a college athlete and been active, but your guide was totally different than anything I had ever done. And I loved it. These progress pictures are pushing me to go to the gym today! Thank you so much for the guidance and advice you provide to not only me but everyone else who is trying to start over or switch things up or boost their confidence or a number of so many other things! You are a blessing and so so amazing. Thanks again. This challenge has been awesome. I'm proud to say there's a new spark within me and I finally BELIEVE IN MYSELF. THANK YOU."
Marshall Dixon
-Participated in the 6 Week Summer Challenge-
"I almost did not take transformation pictures because I thought there wouldn't be a huge change like I have seen from others! Let me just tell you, your guide was everything I needed to motivate myself to make a better me and live a healthy lifestyle. Thanks for all of the motivation! Please checkout what your guide has done to my body!!"
Reya Redd
-Participated in the Spring Break Challenge-
"I just wanted to thank you so so so much for this opportunity, it was an amazing experience. To be honest, I have been working out consistently for almost two years now and never took it as seriously as I have recently, and this is mostly due to you and your workouts. You've been a huge inspiration of mine ever since I first started following you on instagram and it has impacted me so positively. This program has been a real challenge for me, and it has definitely paid off!
I have never before taken progress pictures because in all honesty, I didn't think I needed to. But after this challenge and seeing my before and after photos, I'm astonished that I could improve so much in just a month! And the results have definitely changed my outlook. Before, I never saw any real changes from my workouts, which really discouraged me, because I see myself in the mirror every day and always see the same things: the things I didn't like. I didn't see how my body was changing for the better until now. This has really opened my eyes to how hard on myself I have been, and I have realized that I shouldn't punish myself for not changing, when in fact, I have changed so much, but just couldn't see it over my own perception of my flaws.
Again, I just want to thank you for providing a huge tool that has led me to better self esteem, motivation, and ultimately self love. You are so awesome and you are doing amazing work. Much love and support to you!!!!"
Kylie Schimmoeller
-Participated in the Spring Break Challenge-
"I want to thank you SO much for this amazing challenge. Not only because I feel more confident than I ever have, but because I've found a new love for fitness that I never thought was possible! I was in sports all of my life until college, so I never really had to go to the gym. At the beginning of college, I liked going to the gym but always looked at it as a chore. Now I literally look forward to going to the gym every day, and never wanna leave once I'm there! Thank you so much for not only a physical transformation, but a huge (and more important) mental transformation. A month ago if you would've asked me I would only care about the visible progress. I realize now that it's SO much more than that. I'm so proud of the hard work I've put in, and I can't wait to continue to grow both mentally & physically. I've absolutely loved the support the group has provided, and hope it continues long after this challenge! You're amazing, & I so appreciate the hard work you put into this challenge and everything else you do. I can't wait for the next challenge!"
This is a video the girls who participated in my 30 Day Challenge made for me. If you are considering joining a challenge, I highly encourage you to watch it! We created an amazing community of women and through this challenge our lives have been forever changed.
*If you are interested in sending me a testimonial for my workouts, please email me at gmalefit@gmail.com